Christmas Chaos!~

Hey Guys! Amayonnaise here with the weekly happenings of FruitServers, where every day is a Christmas Celebration!


Survival

Skyblock

Prison

Players Joined: 8,633

Players Joined: 5,132

Players Joined: 4,483

% of Monthly Goal: 536%

% of Monthly Goal: 233%

% of Monthly Goal: 49%

Current Top Donator:

Scrublord_cbf

Current Top Donator:

Pixerative

Current Top Donator:

Jyln
---
Survival
Who's pumped up for Christmas!? Only 8 days away now, so make sure you've got those presents all wrapped up and under your tree! Also, make sure you check in at /warp train weekly as we're always updating the wordsearch and spot-the-difference! We also have a colouring in competition, which can be found at this link: tinyurl.com/christmassv

Staff Updates
There are no new updates this week, but our Staff Squad is always happy to welcome new moderators, and more especially new Builders and Event-Coordinators, so if you're interested in applying… follow this link! https://www.fruitservers.net/staff

Events
This week we had quite an exciting couple of events, starting with the brand-new Snowman Fishing, and ending with everyone's favourite.. Regicide! Wait, I mean Santacide!

For Snowman Fishing, players suffered through chilly temperatures as they fought to get the most snowmen into their base! With six rounds to battle it out (and a staff round), we had a huge number of winners!

Round 1: xXdedsecXx & IllusiveGamer
Round 2: emoji_cat, PotatoPlays_ & TheEskalato
Round 3: Smol_Misty, Ellqn & STatic58
Round 4: Static58, Music_Man_inaPAN & EwokMaster22
Round 5: dababychicken, Ellqn & Static58
Round 6: EwokMaster22, IllusiveGamer & NemoAndChips
Staff Round: Pixerative & Dusked_

For Santacide, we had a total of 14 staff, but also had a little bit of betrayal in the mix.. With Headlouse knocking off Dusked_'s helmet, and ending Amayonnaise with a single arrow to the back! Looks like he's getting coal this year...

Special props to MrRandom287 for taking down Ahtnamas80 and Ethreal7 for slaying H1N9! Other players who took down staff were… IllusiveGamer, the MVP with 3 staff kills (Headlouse stole his 4th), Ethreal7, MrRandom287, PotatoPlays_, BlessedPie, Naatilly, & Choccy_

**CHRISTMAS AREA UPDATES**
As of the time of this post going up our weekly minigames will have reset! Thank you to everyone who has participated already and we hope you enjoy the new challenges coming towards you!!

Out of every correct entry for each event we randomly drew a player to win a prize! You will be contacted soon by staff to recieve them :

Our Wordsearch winner of the week was PotatoPlays_
And our Spot-The-Difference winner of the week was emoji_cat

Reminder that you only have one week left to make your gifts for Secret Santa! I mailed your secret-santas out to you on the forums last week. Once your gifts are ready to go, contact one of the Event-Coordinators either on discord, on the forums, or by sending a /mail in game!

Selfie of the week


Looks like Naatilly caught a big one this time! Remember to keep your hands away from the cage.. I heard he bites!

Marriages
| | | |
| --- | --- | --- |
| Commanzu | ❤ | princesslamp |
| Ethesa | ❤ | QuiteSpooky |
| Twilight17 | ❤ | Karbzee |
| ChoccyLatte | ❤ | Illuummi |
| Karbzee | ❤ | steaks_28 |
| QweltyNick | ❤ | 2bcrafty2 |
| Dusked_ | ❤ | thumb_man |
| LifeOfBlu | ❤ | Amayonnaise |
| _Ravioli | ❤ | Pixerative |
| Headofgoogle | ❤ | thevikingdio |
---
Skyblock
Helllooo fruitloops! Godfrey here bringing the news of the week straight to you!This week has been a busy week for Choccy building new events for us to play next week! Let's get this weeks post started!

Staff updates
Over the past couple of weeks, not a lot has changed in our staff team, but we sadly had to say goodbye to our beloved RebornIV. You will be missed buddy :( We're always looking for staff so If you feel like you have what it takes to join our skyblock staff team apply at https://www.fruitservers.net/staff

Events
Starting off the week we got lost in a new maze what was kinda easier and kinda harder. The escapees are MrRainbow234, Polar_Bear69, Seitanist666, Icecream20_, and Atomic_Lancer!

Tuesday was an eventful day as we had KOTH and Thunderdome! The winners are ChoccyLatte, KingNBubby, HermezLove, Euphoriella, and Alex_The_Kid!

Ending the Week with BINGO! Contestants who won are steaks_28, Pixerative, Euphoriella, Gylfmeister, Grywon, and Alscar

Don't forget to Post your selfies in Selfie of the week for a chance to win tokens!

>>Marriages of the week!<<  

No Lovers this week D:

Selfie of the week


Nuggs13 - H1 being carried again. When will he stand on his own 2 feet


---

Prison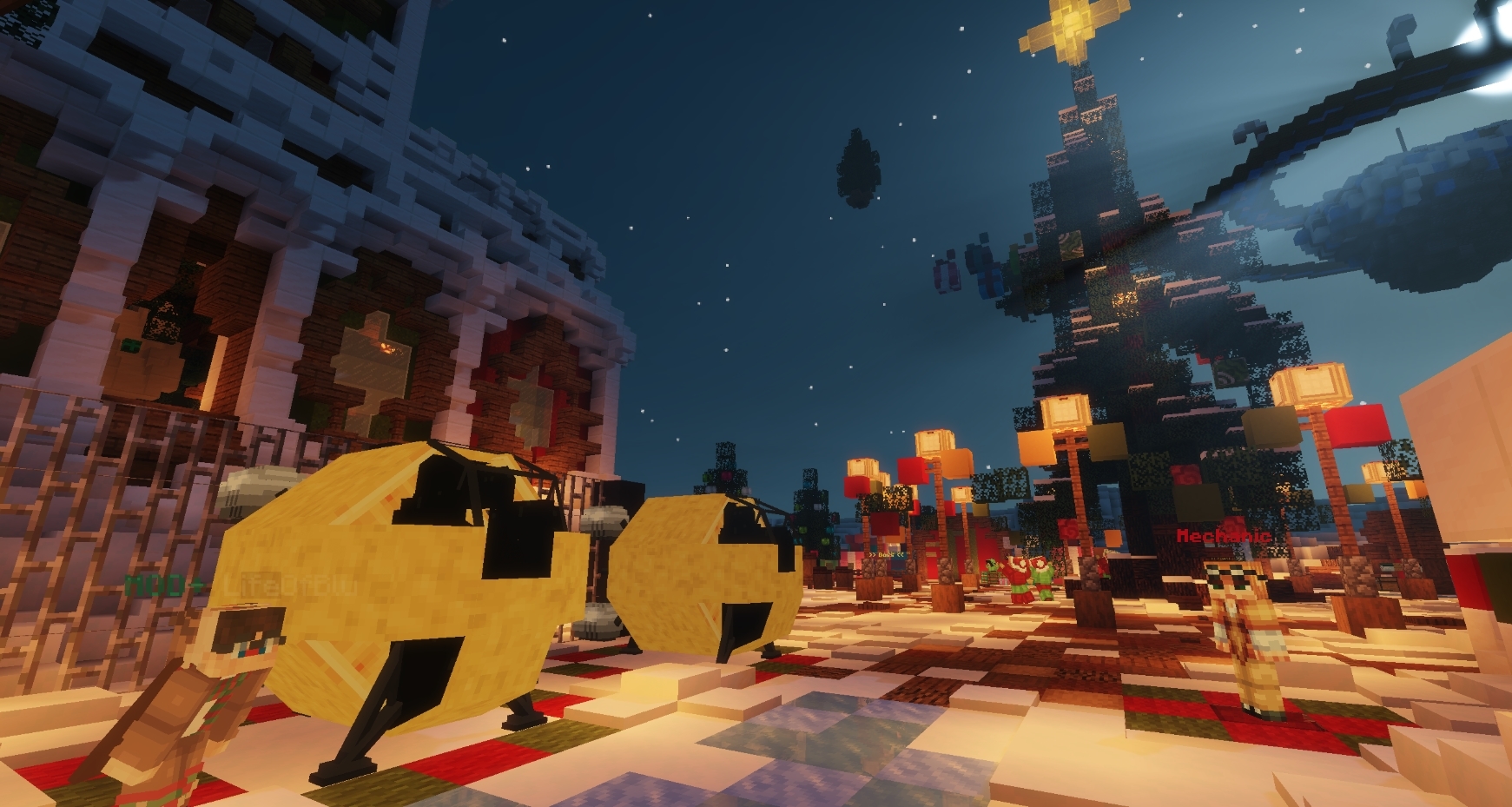 Over on Prison a brand new Christmas planet is open for viewing. You can get there by typing in /event join Christmas - here you'll find a beautifully crafted Christmas-themed build with fancy new limited-edition foods available to buy and even a frightening new boss! That's not all, soon you'll be coming face-to-face  with fancy new mini-bosses! Think you've got what it takes to triumph against them?

We also have some fun events coming to Prison just in time for Christmas! On the 18th, players can hop on board to participate in our Prisoner of the Hill event (King of the Hill!), and on the 23rd Goldsta's hitting the yard for the Prisoners to get back at him in… Kill the Warden! (It's about time, Gold!)

The Prison Team is also keeping an eye out for anyone seeking to join the warden ranks, keeping those prisoners in line! If you want to join their staff team, be sure to submit an application! https://www.fruitservers.net/staff


---
Server Announcements

A little reminder that PETS are now available in every Server's store, and you can pick up a FREE snowman pet in the 'limited availability' section of each store!!

Build Competition
As 1.13.2 has caused issues for our Creative Server we will not be hosting a build comp this month due to the lack of World Edit. But don't feel disheartened, keep practicing your building for our next Build Comp, or to try out for our fantastic Build Team!

That's all for this week folks, wishing you all the best for the end of this year!
- Amayo <3
End of Post.