October Recap

Welcome one and all to the October recap! I hope you all enjoyed celebrating Halloween and all of the fancy themed events we hosted in the lead-up, now you get to sit tight for a good month and a half before we start on the Christmas madness! Plenty of exciting things happened throughout October and there's even more cool things happening in the final weeks of the year so get comfy and have a quick read of the recap with me.
---
FruitBowl News
★Prison Revamp
After much anticipation and many hours of devotion from the team, the revamp is right around the corner. Special mention to B3ast619 and spleggeti who've gone above and beyond, giving the project all the love it deserved. We're at the final stretch now.
★Skywars Maps
Skyblock introduced two new Halloween-themed maps for all the Skywars fanatics, the first being the Horsemen of the Apocalypse map and the second being the Seven Deadly Sins map. You'll definitely want to be playing Skywars more often for the opportunity to play on these beautifully crafted maps, you can expect more masterpieces to be introduced if Skywars gets enough attention!
★Fruitoween
Fruitoween shenanigans are well underway now with crafting competitions taking place across Survival, Skyblock, and Pixelmon. It's not too late to join in and start competing for your choice of either a fancy peripheral or a store voucher. Themed events have also been hosted on normal event nights with plenty of pop-ups also being run at random, you'll never find yourself short of things to do during Fruitoween!

★Donations
A huge thank you to everyone for the tremendous support throughout October, that's another successful month which means even more neat things headed our way. Keep it up everyone!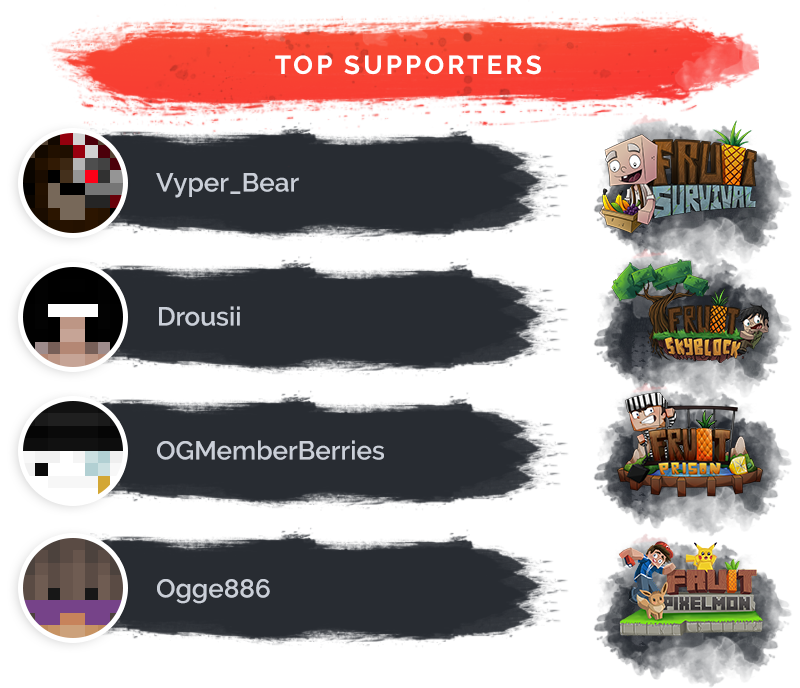 ---
★Vote Competition
Reminder to everyone that votes are tallied up for the post a few hours before the end of the month so sneaking in a couple of votes right at the end may not help. Props to everyone for keeping voting as competitive as it has been, looks like everyone is eager to win themselves a voucher! Once more well done to TimelessKings on securing 1st, rebel1991 on 2nd, and _nck991_ not far behind at 3rd! As expected voting is incredibly competitive now that there are four sites to vote on daily.

★Build Competition

Not too many entries this time around, however we can still congratulate crumpini + Owllyy + Eggyy on a fantastic effort. Even with the lack of entries, this hard-working trio has secured themselves a store voucher; it's ALWAYS worth entering the Build Comp! The final build competition of the year will follow the theme Christmas... there's a catch though! Your completed build needs to be usable for one of the following events - Regicide, Hide and Seek, or Capture the Flag. The best entries, with the builders' permission, will be used for official server events.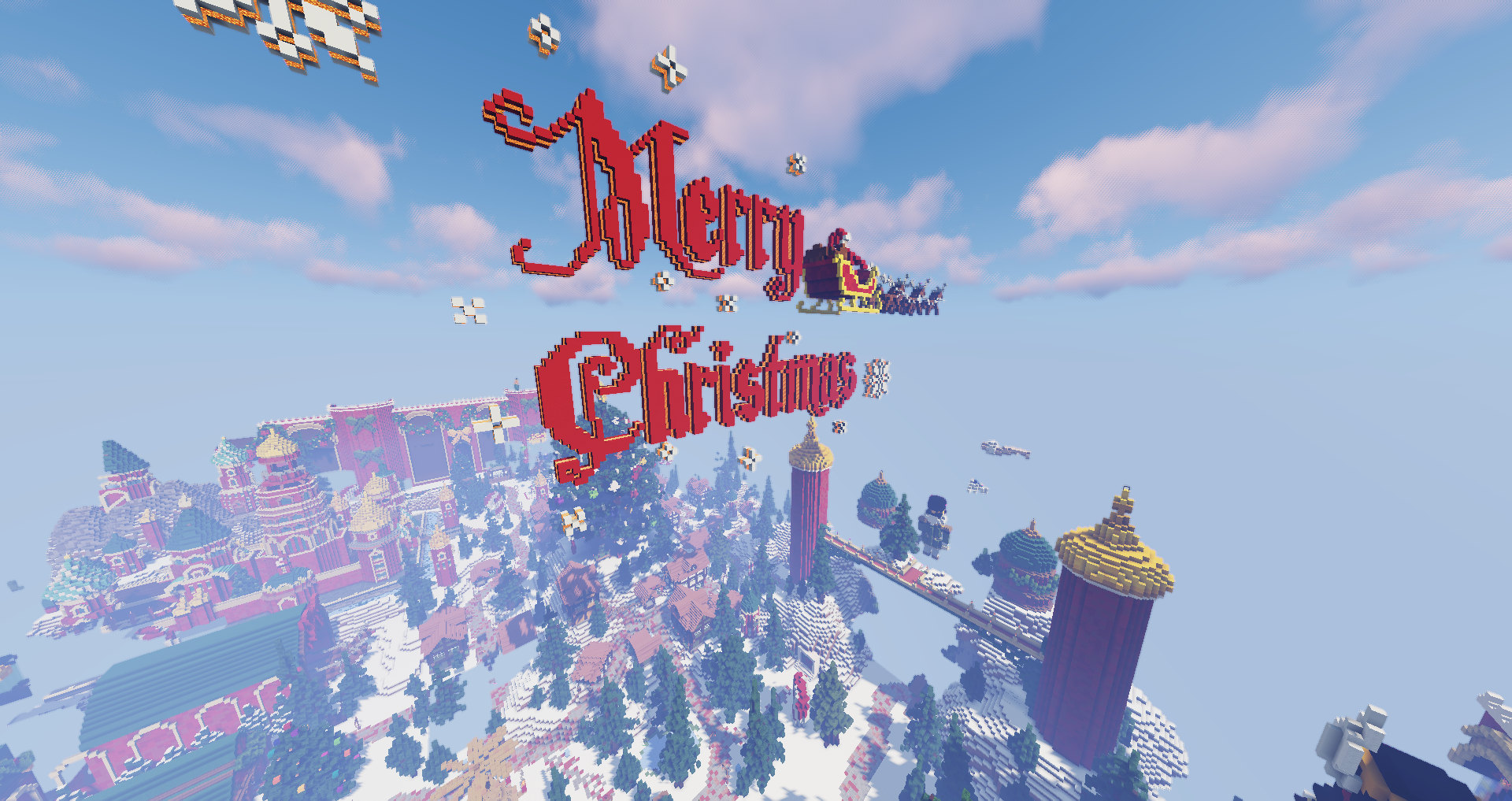 Competition Rules
The build is limited to 200x200 in size. There is no height limit.
The build must follow the theme - Christmas!
The build must be completed by 11:59pm 29th November, 2020 (AEDT)
You are permitted to work in teams of THREE (3) at most! Prizes will be split accordingly.
All entries must be built on the Creative server.
As cool as pixel art is, this isn't the place for it.
Don't copy another person's work, BE ORIGINAL!
Entry and Prize Structure
A forum thread will be made where you can submit your entries as well as find out what the prize structure will be. To make things easier for everyone, please only submit your entry on the prize structure thread. Lazy attempts will receive a substantially smaller prize, you have been warned! Remember - 15 quality entries and the prizes will increase!
---
Top Players
FruitServers is an amazing community because of the people that are a part of it. Every month one player and one staff member from Survival, Skyblock, Prison, and Pixelmon are selected and acknowledged for their contribution to the server, whether it be ingame or behind the scenes.

Player of the month Survival - bupteddie. A kind and caring player who will always lend a hand to those old and new, you will often see her in discord conversations and catching up with the community! Thank you for being a great asset to FruitServers Bup. ~Ahtnamas80

Player of the month Skyblock - Vexikorn. Vexikorn stumbled his way into our hearts a couple of months ago and has refused to leave ever since. With his quick wit and ability to befriend anyone, he has made his home in the Skyblock community with ease. This youngster is intent on helping others and becoming a Skyblock superstar! Well done! ~Gylfmonster

Player of the month Prison - NatJat. Wherever she goes, Nat has shown her uncanny ability to befriend players and staff alike in no time at all. This was on full display while she was spending time on FruitPrison, we look forward to seeing her there more often after our anticipated revamp lands. Well done Nat!

Player of the month Pixelmon - Haolei_Chen. Although he's a little more quiet and humble than many others we've come across on FruitPixelmon, Haolei_Chen is a huge asset to our growing community. Always willing to put aside what he's doing to help others and always willing to part with his extensive knowledge of Pixelmon, we appreciate his presence whenever he's online. Well done Haolei!


Staff of the month Survival - aleecha. This was a very easy choice this month. Aleecha has been an amazing staff member, who is always working hard to help anyone who needs it. A friendly, welcoming and fun person, it has been wonderful spending time with her on the server. Congrats Aleecha, we appreciate everything you do for FruitServers. ~Ahtnamas80

Staff of the month Skyblock - Gylfmonster. While the wonderful Asc has been busy toiling away behind the scenes, Gylfmonster has been doing what she does best when FruitSkyblock needs people to step up. Kudos to you Gylf, for another hugely successful month.

Staff of the month Prison - B3ast619. Anyone who knows B3ast knows that his commitment to FruitPrison is nothing short of phenomenal. Since joining he has proven his worth several times over, and he has been a driving force behind our revamp. Keep it up B3ast.

Staff of the month Pixelmon - Reube. Much of Rubs's efforts on FruitPixelmon go unnoticed as he has become accustomed to assisting with things behind the scenes. However, that shouldn't take away from what a valuable asset Rebus is to the FruitPixelmon team. Good on ya Rob.
---
Survival, Skyblock, Prison and Pixelmon are lucky to have such strong moderating teams, however we are always accepting applications for all of our staff roles. Our wonderful Event and Build Teams in particular are still looking to grow so if you'd like to be a part of something special do consider looking into these roles. Think you have what it takes to join one of these fantastic teams? Submit an application at www.fruitservers.net/staff
As always we look forward to hearing feedback from you guys about possible improvements. If you have ideas, please share them with us either through the website, in-game, or via discord. We want to know what you think!
---
Thank you all for reading the October recap, I look forward to seeing you online
~Gold
End of Post.