Survival Back Soon
Hello Fruisters and welcome to this week's post! There's tons of information to take in, so let's get into it!
❀ Survival ❀

✿ Skyblock ✿

❀ Prison ❀

✿ Pixelmon ✿

Players Joined: N/A

Players Joined: 3, 691

Players Joined: 3, 936

Players Joined: 2,266

Monthly Goal: 609%

Monthly Goal: 154%

Monthly Goal: 25%

Monthly Goal: 60%

Current Top Donator:

nck992

Current Top Donator:

Luckyzedge

Current Top Donator:

altdunwun

Current Top Donator:

MattusTheGreat95
Last night at 11:05PM the server SSD for the Survival, Hub and Pixel Hub box died. The SSD contains all of the data associated with the server. Approx 240GB.

We are spending a significant amount of time restoring a backup which I had downloaded a while ago. As you can imagine, given the size of downloading the server, it doesn't happen very often.

The Good News:
- We should be back and running tomorrow afternoon for Survival
- SkyBlock, Prison, Pixelmon and Creative are online as they are on different boxes
- SkyBlock is the hub at the moment
- The map was a day old so progress lost is only a day
- We should be back up and running tomorrow afternoon - If you had a warning these might have disappeared

The Bad News:
- The map is new again (the same map as last time)
- Fruit Collectibles has been reset quite significantly
- There is a rollback on purchases from the store (Please wait 10 minutes to see if it comes back), if not, fill out this form here

Voting will be back online asap. There will also be a lot more restarts over the next day or so while we get things back online and operating again.

A compensation package along with a bonus extra will be added to the store at a later date.
Hey Prisoners, as the end of the month nears, so does the end of the Prison Celestial Challenge! No one is yet to complete it but a few people are getting close. There is always still time for you to join in and attempt to win the grand prize! Good luck to all our competitors and may the best player win!
We also launched Prison's word search last week and a few of you have made attempts at it. Why not try your luck as the word search and see how far you can get. A reminder that if you get all the words, you will be in with a chance to win the secret prize!
★ Survival ★

We would like to welcome MrSap back to the staff team, we look forward to seeing them flourish!
We are always on the hunt for new staff members for our moderating, event coordinator or builder teams, if you think you have something to offer why not put in an application via the website by clicking HERE
Join us every night at 8pm AEST for our nightly events!
Please note: Events are now using Australian Daylight Savings Time. Depending on your state/country the events might be an hour earlier for you!
Check out this week's calendar for what games we will be playing.
| | | | | |
| --- | --- | --- | --- | --- |
| | Monday - | | Pixelmon Event Night | |
| | Tuesday - | | Prison Event Night | |
| | Wednesday - | | Spleef on Survival | |
| | Thursday - | | Skyblock Event Night | |
| | Friday - | | FFA on Survival | |
| | Saturday - | | Skyblock Event Night | |
| | Sunday - | | Prison Games Night | |
Congratulations to all this week's winners.
Come along to events and you could win yourself keys or tokens!
~★~
Pixelmon Rental Team Tournament
Every Sunday night at 7pm AEST we hold our weekly Pixelmon Rental Team Tournament. For those of you that may not be aware, you will be supplied with Pokemon during these tournaments. If you've just started on the server you've got the same chance of winning along with the big bad Pixelmon sweats!
The winners of our weekly tournaments are awarded with Shiny Token of their choice! Why not come give it a shot and see how you go!
~★~
Fruity Marriages
Wedding bells are ringing for this week's happy couples!
SURVIVAL

SKYBLOCK

JesseThePotet

❤

JackoRS

Natjat

❤

Dimbotron

Kloeno

❤

Derpmaster666

ellenox

❤

mikreneej
Want to marry that special someone?
Contact a staff member and they can help you on your way to wedded bliss.
~★~
Selfie of the Week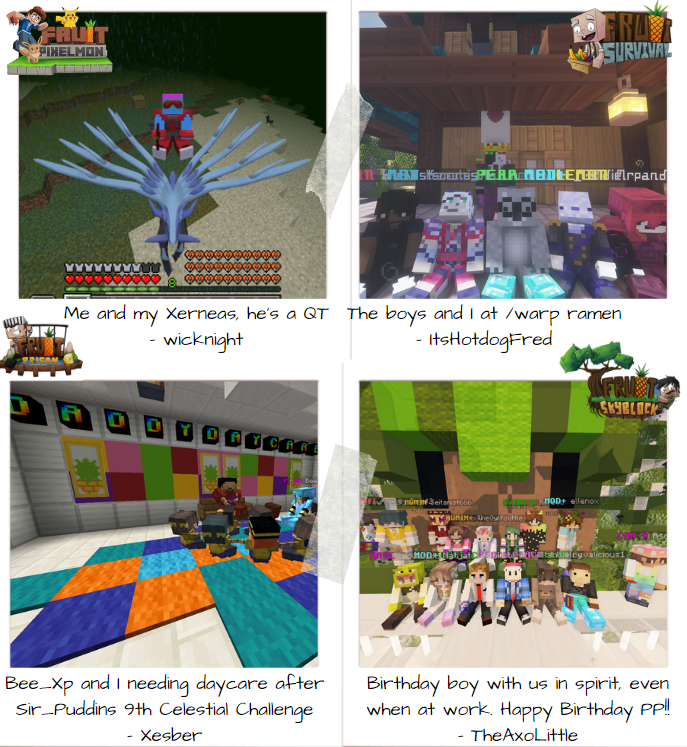 We love to see what you get up to during the week, so make sure you post a selfie to the forum thread before Sunday night to be in the running for a token. When you post your selfie be sure to mention which server you took the selfie on, and write a caption for it also.
Post your selfies HERE
---
Thats it for the news this week! Remember to stay dry and rugged up in this cold weather!
Ravioli & The Event Team
End of Post.