Weekly update and Skyblock Reset!
Howdy Fruity Folks! Roll up, roll up! It's Meloona back here bringing you another fruity update and keep this between you and I… but i'm so excited to fill you all in on the xoxoGOSSIPgikda that has happened in the past week! Lets hop into it, Shall we? ~ We shall!
---
H1N9's Section - Super Important!
Skyblock has now officially been running for nearly one year! It has been a fantastic first year on Skyblock with loads of amazing updates along the way. The time has come however, to say goodbye to the current island world in order for us to introduce the latest update for the server.
When? Thursday Morning - 25/8
How long? 1-2 Hours of downtime will be needed for this reset maybe even less.
Why? There are numerous bugs with the current sets of islands and plugin that needed a total overhaul. It is easiest to do this when we have a fresh start otherwise we risk losing islands when we try to update. Bugs like the moving island borders will be fixed!
Can I save my stuff? Yes, and No. We will happily move across the first 10 islands to the new map if you post your name in the comment section below. HOWEVER!!! The islands will not transfer chest items, grass and other valuable blocks like diamond or ores and redstone will most likely break.
Therefore, I encourage you to consider if you really do need your island moved to the new map or not. Once your island has been saved you will receive a PM detailing what you need to do when you join the server.
What is being wiped? Everything – including cash, enderchests and virtual packs.
What will be new? Lots of things will stay the same! However, Geek has been working over the past few months to reduce the number of bugs and lag the plugin has. There is also a massive new quest update for everyone!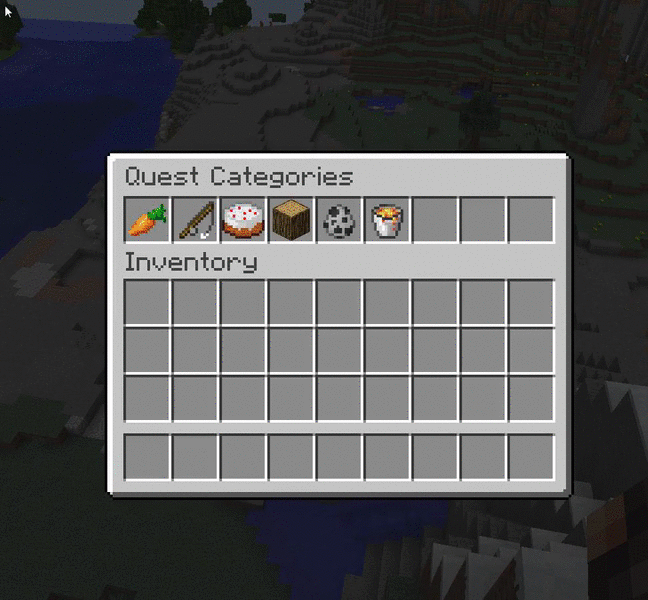 This includes brand new categories, cash rewards and more!
If you have any questions about this wipe, please post below in the comment section or message myself or Aph for help!
---
The Rundown
Survival:
Number of players joined: 8371!
Currently 148% of the monthly goal!
Current top donator: ___Vex_
Skyblock:
Number of players joined: 6498!
Currently 162% of the monthly goal!
Current top donator: Crabbman128
What lovely statistics we have here!
---
Beyond the Bowl
Sadly this week we witnessed the departure of 2 of our very special and beloved staff members, MistOfDusk & LoshSmoak. These two fruity staff members helped us out so much over the past… well…  A long time… and we will miss them dearly, but we wish them luck with their futures.
---
Events
On the 17th of August, we played an event which sent you players into the wild to search your little juicy hearts out to find a total of 14 wacky minecraft items! Yes… you guessed right.. We played PropHunt! We had quite a few players turn up to participate and all the staff got to have a go aswell! So let's give our victors some spotlight;
First: Le_Commandant     Second: LooneyLu      Third: melongrip
Fourth: Bloo                      Fifth: Meloonnn
On the 19th of August, we had a very sudden change from skyblock >> survival, but the event still carried on! We played a total of ELEVEN quick and electrifying rounds of Thunderdome! And i dont know about you guys, but personally the staff team had an extremely fun time watching you all die >:D Lets hear who won;
Round One: PoggleLoggle          Round Two: Peachy__Panda               Round Three: Peachy__Panda
Round Four: _LittleSavage         Round Five: Regalian                           Round Six: eshacraft05
Round Seven: H1N9                   Round Eight: Avv_                                Round Nine: Peachy__Panda
Round Ten: Avv_                       Bonus Round: TheSilentKnight_
---
Build Comp
This month's theme: Disney
Competition Rules
- Build must be finished by 31st August
- Players must work individually
- Build must be completed in the Creative world
- Do not build chestrooms,spawners,massive farms etc. We want creativity, not everyday things
- Only one entry per individual
- No pixel arts!
- Keep redstone minimal if you have to use it
How to post your Entry
To enter this month's competition, please leave a comment ON THIS POST stating so, or use a warp if you're building on someone else's plot. If you have run out of warps, please let a staff member know.
---
Notable Weddings
SURVIVAL:
Bearsta + ProoofFlounder9 <3
Youngbloods and Youngcrips <3
SarahSoph + LuciferLyte <3
Le_Commandant + Rainbowsss <3
PieParkour + FlamerVy <3
SKYBLOCK:
No marriages :(
---
Thats a Rap!
Yet again we have sadly come to the end of another weekly post ;c we all really hope you enjoyed the read and managed to hold in all of that juicy gossip! There will be many many more posts to come! So don't cry! Wait… theres no weekly post without the screenshots of the week & the meme of the week!?! So lets get straight into it!
---
Screenshots of the Week
Survival: This weeks photo is taken by Lagoona! That poor squid ;c is that abuse?
Skyblock: Three little polar bears chilling on our skyblock islands. This photo was taken by Coles!
---
Meme of the Week
---
~ Meloona
End of Post.